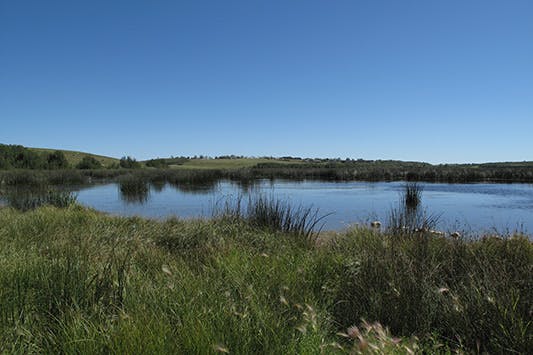 Red Deer Lake area is part of the MD Foothills jurisdiction and is located just west of Spruce Meadows area up to about 160 St. off 22X. The once large lake itself in the valley west of Hwy 737 has been dried out for many years and has left large wetlands, open fields and park areas that people enjoy for walking, picnicking, bird watching etc. As of 2016 a full fledged Disc Golf course has been set up in the park and many players now enjoy that convenient location for disc golf. The lake is coming back to some degree with higher water levels but is mainly  a wetlands setting currently.
This area has beautifully rolling hills and superb views to the Rocky Mountains. There are several Equestrian facilities in the Red Deer lake area including the John Anderson Rocky Mountain Show Jumping facility, Teesdale Riding stables and of course the world famous Spruce Meadows facilities among others. A very popular acreage area where you will find acreages ranging from $700,000 up to $2M plus. A 'close in' rural area where "city convenience meets country pleasure."
The Red Deer Lake community centre is located down near this lake valley, where you will find a variety of classes that take place. Red Deer Lake United Church is situated on 22X just before the new modern Red Deer Lake school & you'll also find close by on 37th St the Red Deer Lake meat plant that has been operating for many years and an excellent source of fresh meat and poultry.
One will now begin to notice a lot of construction along the 22X near Red Deer Lake and east as preparations are begining for the West Ring Road development which will greatly improve access to this area and likely start to impact property prices for the positive as people realize the quicker access that will be available to the Red Deer & Priddis areas.
SCHOOLS
Red Deer Lake School Grades K-9 Tel: 256 4912
This school, recently rebuilt as a modern spacious facility, primarily services the Priddis and close in country areas and has been in operation since 1940. It's a wonderful school with great academics, a  great reputation and a 'community feel' to it.
LIFESTYLE
Red Deer Lake is a fresh water alkaline lake situated near Bashaw in central Alberta, Canada.
It is a high demand area for real estate because of its gorgeous country, peaceful atmosphere, rolling hills, views of the Rockies, wonderful variety of beautiful acreages and large land holdings, quick access to the SW quadrant and its proximity to the famous Spruce Meadows facility.
SEARCH RED DEER LAKE MLS® LISTINGS NOW!