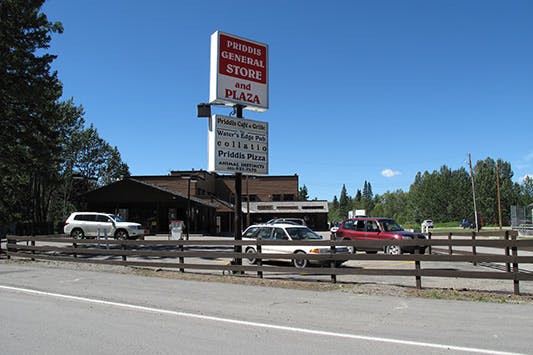 Priddis is located about 16 minutes West of the South Calgary area & Shawnessey, and is a scenic area of rolling hills in the MD Foothills that parallels the Rocky Mountain front. It is a good starting point for a leisurely drive south into the heart of Alberta's high ranching country. Captivating mountain views and lovely mature vegetation provide tremendous scenery as one drives west from Calgary on 22X to Priddis and towards the Bragg Creek area which is about another 10 to 12 minutes beyond Priddis.
This area boasts beautiful acreages and larger land agriculture parcels and is highly sought after. Many gorgeous country roads offer some of the most beautiful country drives close to the city. One of Southern Alberta's most prestigious golf courses, Priddis Greens Golf & Country Club http://www.priddisgreens.com/ is a combination of 2 18 hole championship courses just West of the Hamlet of Priddis and home of 3 LPGA championships. A major 80 unit condo complex is situated in the Priddis Greens Golf Course complex www.priddisgreens.com and currently about 60 new, very high quality estate homes are built alongside the golf course at Hawk's Landing community, with homes ranging from $950,000 to $2,500,000+. Also the stunning Azuridge – Restaurant & Boutique Hotel http://www.azuridge.ca/#axzz30a3Uxgl9 is also very near to the Gof course offering international cuisine and Boutique style hotel accommodation with individual room themes for a romantic 'get away' or corporate retreat.
The lovely small and quaint Hamlet of Priddis offers a small number of country style cafes, stores, gas station, skating rink, community center, small country church and post office.
There are still some traditional "working" ranches in this area and some wonderful bed & breakfast operations but it is becoming best known for its beautiful acreages and country estate settings.
This MD Foothills area has become a sought after country area near Calgary and is a great place to raise a family and invest in property that will very likely gain in value into the future.
Prices in this area range from $700,000 up to as much as $4,000,000 and more for large land parcels and luxury estate homes in the general Priddis area.  Homes on the the Priddis Greens Golf Course range from $475,000+ for condo's at Priddis Greens up to well over $1.5M+ for luxury homes on the Golf Course and at Hawk's landing.
SCHOOLS
Red Deer Lake School Grades K-9 Tel: 256 4906
Millarville Primary School Grades K-8 Tel: 931 3202
Oilfields High School Grades 9-12 Tel: 933 4373
For more information on schools around South Bragg Creek and Okotoks area, and designated high schools, contact the Foothills School District, Tel: 652 3001.
LIFESTYLE
PRIDDIS VIEW & BREW
403-931-3611
Hours of Operation:
Tuesday – Thursday 8-4
Friday 8-8
Saturday 8:30-8
Sunday 8:30-7
---
PRIDDIS CAFE & GRILL
403-931-0321
Hours of Operation
Monday – Thursday 7-3
Friday 7-8
---
AZURIDGE – REATAURANT & BOUTIQUE HOTEL
178057 – 272 St W
Priddis, AB T0L1W0
http://www.opentable.com/azuridge
---
PRIDDIS GREENS GOLF COURSE
1 Priddis Greens Drive
Priddis, AB  T0L 1W0
Pro Shop: (403) 931-3316
Admin: (403) 931-3171
Fax: (403) 931-3219
SEARCH PRIDDIS & PRIDDIS GREENS MLS® LISTINGS NOW!