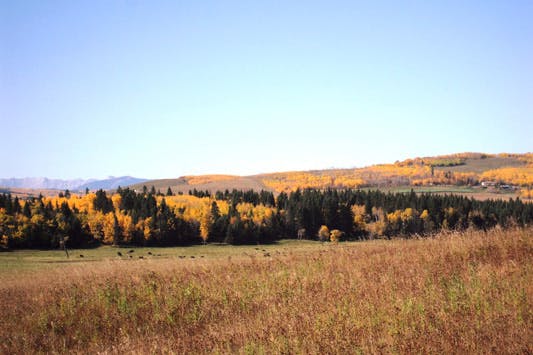 Millarville is a quiet country community South of Calgary on Highway 22, a highway which heads south off 22X about 18 minutes west of Shawnessy at the south end of Calgary. The famous Farmers' Market is open each Saturday from mid-June to the end of September, from 8:30 a.m. to noon. The Millarville Christ Church is a century-old spruce log Anglican church in the rolling hills.
The Millarville Race Track has been holding horse races since 1905!
Annual events include the Millarville Rodeo (end of May), the Millarville Races (end of June), the Flower Festival (end of July), Priddis and Millarville Fair (mid August), the Millarville Art Market (mid October).
Many beautiful acreages have been built in the Millarville region but many large ranches still exist here providing a real flavour of true Western living.
The hamlet of Millarville is very pretty and provides locals with amenities and a small country town atmosphere. This too is a high value real estate area to buy in. Driving time to Calgary from here is about 30 to 40 minutes.
---
SCHOOLS
Millarville also has a community school – Kindergarden to Grade 8 with award winning and caring staff of ten teachers, a secretary, librarian, as well as a Youth Development worker. For more information on the school call 403 931 3202 or email thornet@fsd38.ab.ca
Albernative School – Red Deer Lake – Grades K-9 Tel: 256 4912
South Bragg Creek, Black Diamond, Turner Valley and Okotoks are reasonably close to Millarville and offer a number of different schools. For more information on those schools contact the Foothills School District No 31 Tel: 652 3001
PRIVATE SCHOOLS:
Glenmore Christian Academy Grades K-9 Tel: 254 9050 Located off 22X and 24th St.
Strathcona Tweedsmuir Grades K-12 Tel: 938 4431 Located north of 549, west of DeWinton.
---
LIFESTYLE
Foothills MD
Community Scools
SEARCH MILLARVILLE MLS® LISTINGS NOW!