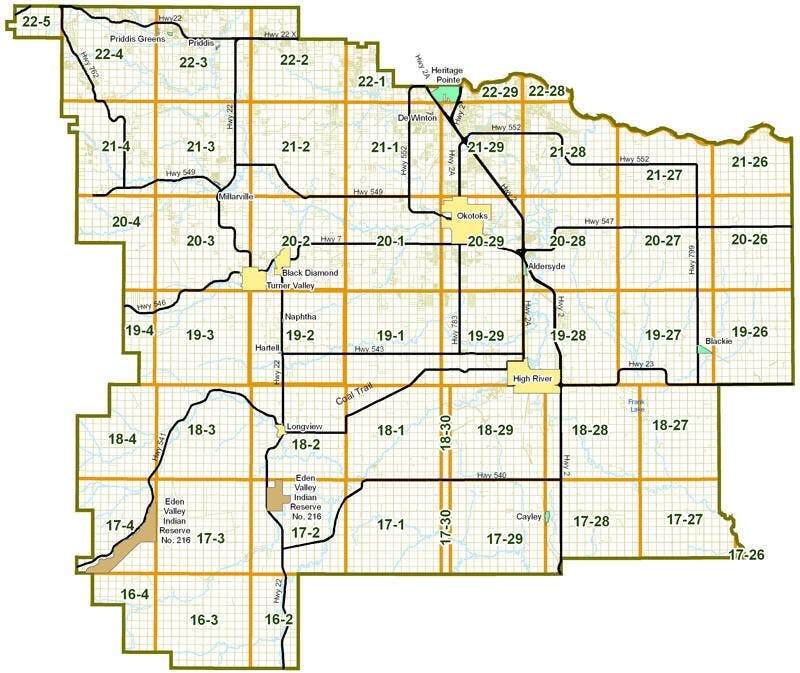 The Municipal District of Foothills No. 31 is a rural municipality located adjacent to and immediately south of the City of Calgary. www.mdfoothills.com
One of the most beautiful country jurisdictions with a wonderful mixture of Foothills views, rolling land, large farmland holdings, private and serene acreages, quaint hamlets, golf courses, numerous mountain view vantage points throughout, wonderful country road drives, and small inviting towns including Okotoks, Priddis, Millarville, High River, Black Diamond and Turner Valley.
Wayne Chaulk as well as Denise have listed, sold and worked with buyers on 100's of Calgary acreage transactions throughout the MD Foothills and other MD jurisdictions resulting in a reputation as one of the top agents working in this area. Knowing the area intimately allows them to value and promote properties properly and help buyers source the right property for their needs. The area is large so knowledge is very important in sourcing acreages and land throughout this area.
---
LIFESTYLE
Over 21,000 people have made their homes in Foothills towns, hamlets, and rural communities. With 8,400 homes, the Foothills real estate market includes a huge variety of homes from modest starter homes and small rural properties to prestigious country estate homes and luxuriously spacious acreage lots. Most communities are well within easy commuting distance to Calgary's south and downtown areas, allowing residents to enjoy the relaxed pace of a rural lifestyle while still having access to all the urban amenities the big city offers.
Whether you live in town or own an acreage property in the back country, life is simpler in Foothills: even the larger, more urbanized centres of Okotoks and High River have a small-town atmosphere that encourages every resident to know their neighbours. Escape the hustle and bustle of the big city and embrace the spectacular natural beauty of southern Alberta's foothills, where you can raise your family in comfort, peace and privacy alongside local wildlife. Here in Foothills, you can slow down and enjoy everything life and the great outdoors have to offer.
---
SCHOOLS
SEARCH M.D. OF FOOTHILLS MLS® LISTINGS NOW!