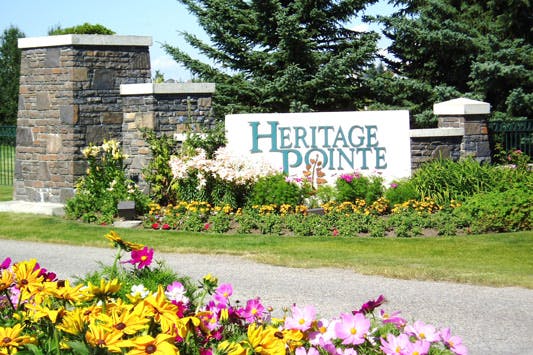 With its striking architecture & exceptional amenities, the award – winning Lake at Heritage Pointe has become a very desirable address in the Calgary region.
This community was awarded Community of the year by the Calgary region Home Builders Association. A new phase is now well under construction on the east side of Deerfoot Extension offering many new 'high end' homes by some of Calgary finest builders as well as villas by Cambridge.
Located just off Dunbow Road & # 2 Highway south and only 8 – 10 minutes to the Shawnessey area of Calgary this lake community has a rare blend of countryside charm & urban refinement. With top builders working in the area, the houses are of very high quality and the community has an estate feel throughout. The amenities are expanding with various small retail and service outlets and most recently the MD Foothills have built an Emergency Services building there are well. Also under construction are baseball and soccer facilities.
Residents get access to the lake & its beach where families can enjoy the privacy & convenience of gated access. Heritage Pointe golf course is adjacent the community and other golf courses including Carmony & Cottonwood are only minutes away. Homes in this community range from $750,000 up to 2,500,000+. Nestled in the Dewinton area of MD Foothills this community offers an alternative to acreage living but still within in a country atmosphere.
---
SCHOOLS
PUBLIC SCHOOLS:
Heritage Heights School – Designated School for Artesia
32156 Hwy 552 East
Mailing address: BOX 80, Site 1, RR#1,
DeWinton AB T0L 0X0
webacc.fsd38.ab.ca/schools/hheights
Grades K-9 (403) 938-1400
http://heritageheights.fsd38.ab.ca
Foothills Composite High School – Designated School for Artesia – Grades 10-12
229 Woodhaven Dr.
Okotoks, AB T1S 2A7
Grades 10-12 (403) 938-6116
http://fchs.fsd38.ab.ca
Okotoks Junior High School
1 Pacific Ave.,
Okotoks, AB T1S 2A9
Grades 7-9 (403) 938-4426
http://okotoksjr.fsd38.ab.ca
Percy Pegler Elementary
(French Immersion available)
69 Okotoks Dr.
Okotoks, AB T1S 2B1
ECS- Grade 6 (403) 938-4449
http://percypegler.fsd38.ab.ca
Big Rock Elementary School
33 Hunters Gate,
Okotoks, AB T1S 2A4
ECS-Grade 6 (403) 938-6666
http://bigrock.fsd38.ab.ca
Dr. Morris Gibson School
147 Crystal ridge Dr.
Okotoks, AB T1S 2B2
ECS-Grade 6 (403) 938-6221
http://drgibson.fsd38.ab.ca
CATHOLIC SCHOOLS:
Christ the Redeemer – St. Francis of Assisi (opened Sept. 2016)
#10, 32156 Hwy 552 East
Foothills MD, AB T0L 0X0
www.redeemer.ab.ca/index.php
Grades K-7 (403) 938-2659
Continuing Catholic education is Holy Trinity in Okotoks
Holy Trinity Academy
53 Cimarron Dr.
Okotoks, AB T1S 2A6
Offers I.B. & French Immersion
Grades 9-12 (403) 938-8048
www.holytrinityacademy.ca
Good Sheppard School
52 Robinson Dr.
Okotoks, AB T1S 2A3
Late French Immersion available
ECS-Grade 8 (403) 938-4318
https://www.cssd.ab.ca/schools/goodshepherd
St. Paul's Academy Virtual School & Okotoks Homeschooling Services
53 Cimarron Dr.
Okotoks, AB T1S 2A6
Grades 1 – 12 (403) 938-4119 or (403) 938-8046
PRIVATE SCHOOLS, PLAY GROUPS & PLAY SCHOOLS:
De Winton Play Group & Play School
De Winton Community Centre
De Winton, AB T0L 0X0
Preschool (403) 995-0308
Open Arms Catholic Preschool
(403) 852-8273
Glenmore Christian Academy
16520 – 24 Street SW
Calgary, AB T2J 5G5
ECS-Grade 9 (403) 254-9050
Learning Experience
#10, 17107 James McKevitt Rd. SW
Calgary, AB T2Y 3Y4
Preschool-Jr. Kindergarten (403) 256-1417
www.learningexperience.ca
Strathcona-Tweedsmuir School
RR #2, Okotoks, AB T1S 1A2
Grades 1-12 (403) 938-4431
www.sts.ab.ca
The Calgary French School
6304 Larkspur Way SW,
Calgary, AB T3E 5P7
Preschool-Grade 6 (403) 240-1500
www.cfis.com
Edison
www.edisonschool.ca
Pre K. – Grade 12 (403) 938-7670
Okotoks AB, T1S 1A2
West Mount School
240 Westland St.
Okotoks, AB  T1S 2J5
(403) 995-4824
http://westmount.fsd38.ab.ca
CALGARY SCHOOLS:
Copperfield School
8 Copperstone Boulevard SE | Grades K-4 | Capacity 600 students
New Brighton Elementary School
30 New Brighton Drive SE | Grades K-4 | Capacity 600 students
New Brighton/Copperfield Middle School
Dr. Martha Cohen School
Grades 5-9 | Approved Capacity 900 students
Expected Opening | April 2017
McKenzie Towne Middle School
McKenzie Highlands School
Grades 5-9 | Approved Capacity 900 students
Expected Opening Date | Sept. 2016
Cranston Dr. George Stanley Middle School
Grades | TBD Capacity | 900
Expected Opening Date | April 2017
FUTURE OKOTOKS PROPOSED SCHOOLS:
• Proposal for new High School on the D'arcy Ranch Lands that has been sold
• Proposal for new High School near Legacy Regional House
• Proposal for new High School in Aldersyde
FUTURE CATHOLIC SCHOOLS:
Auburn Bay – Prince of Peace
Kindergarten – Grade 9
Mahogany
Kindergarten – Grade 6
Planned Opening: Fall 2018
Capacity: 750 (including modular)
Legacy High School
Grade 10 – Grade 12
Planned opening: 2017-2018 school year
Capacity: 1500
---
LIFESTYLE
When you choose a home in Heritage Pointe, you choose more space, more nature, more amenities, more beauty and more value. More, more, more! Like tennis and basketball courts. World-class golf. And executive-style, estate-sized lots. Artesia at Heritage Pointe is a life without compromise. The one you deserve. Luxury homes for sale in Calgary, Alberta today.
SEARCH HERITAGE POINTE MLS® LISTINGS NOW!